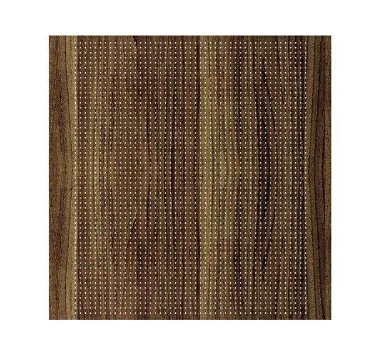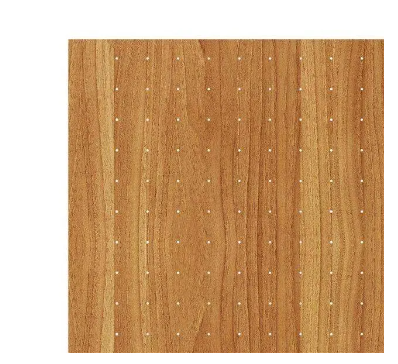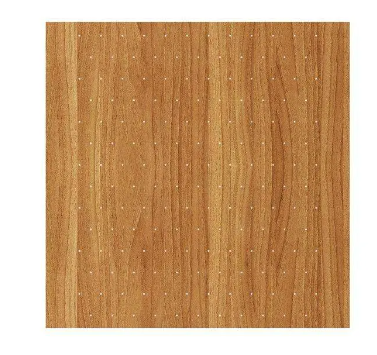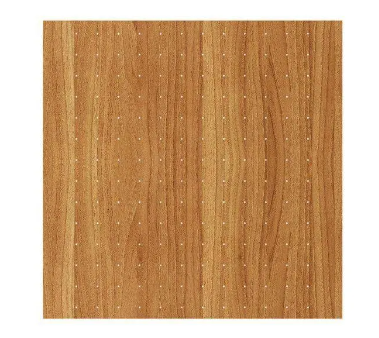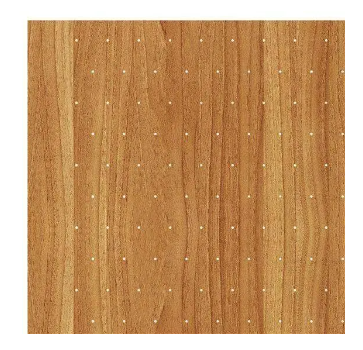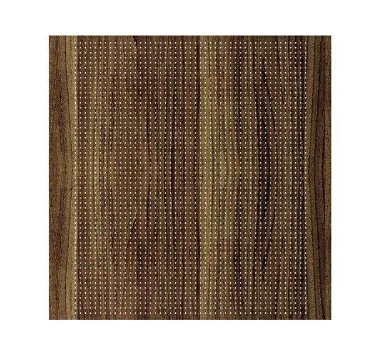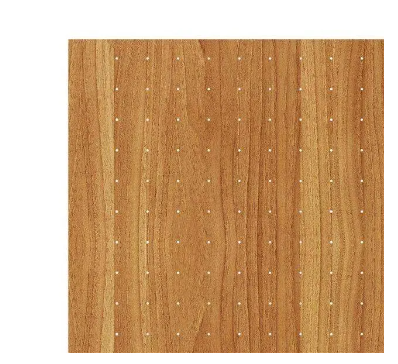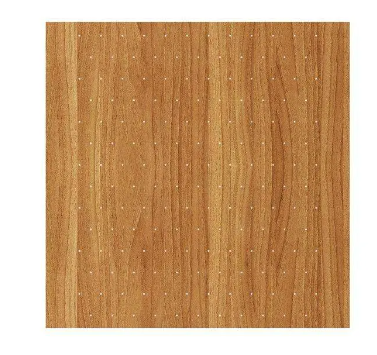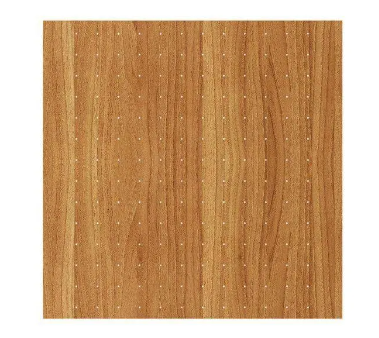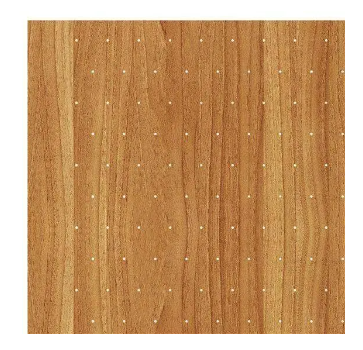 Micro wooden acoustic panel
تفاصيل المنتج
Micro is a 16/18mm mm thick wood veneered acoustic wall and ceiling panel, providing high-end acoustic performance through regular or irregular micro perforations on the view-side. MICRO installs quickly and easily.
micro perforated wood panels offer a high degree of sound absorption and a wide range of decorative finishes.
Invisible acoustics for public spaces, offices, auditoriums, …
TECHNICAL INFORMATION FOR WOODEN ACOUSTIC CEILING PANEL:
| | |
| --- | --- |
| Model | 1.2mm Venner Micro wooden acoustic panel |
| Specification | Micro 1.2mm, Center to Center 2mm or 4mm |
| Thickness | 15mm(16mm)/18mm |
| Surface | Wooden Veneer with Varnish/ HPL |
| Co Material | E0 MDF/B1 MDF/Magnesium composited /NF Golden |
| Back | Soundtex acoustic felt |
| Installation | Aluminum keel and clips, wood frame, gun nail |
| Test | Eco protection, sound absorption, flame retardant |
Almost invisible holes
With 0.5mm.micro perforations every 2mm. and 137,000 holes per square meter, our micro perforated wooden panels achieve class "B" sound absorption certificate
Materials
Micro perforated Wooden panels are manufactured on fibreboard panels (MDF) with micro perforations on the visible side and big holes in the back side to improve absorption coefficient of the panels.
Wide range of finishes
Finishes available are varnished wood lacquered veneer, melamine and HPL. Also through colored fibreboard panels are available.
Installation options
Our micro perforated acoustic panels can be manufactured in several versions, to be installed on walls or ceilings. In both cases you should leave behind a space or filled with a low density mineral fibre to help improve the optimal absorption coefficient.
Panel sizes
Standardized sizes are 2400x600, 1200x600 and 600x600 mm. with a thickness of 16mm. Other sizes available.
Decorative and acoustic properties
The surface of these panels is covered with tiny micro perforations that trap the noise and reduce sound reverberation in the room.
Cleaning and maintenance:
After installation, the panels should be treated as any fine piece of furniture would be treated. A final cleaning with a soft cloth and any good furniture polish will enhance and preserve the luster of the finish. Panels may be vacuumed with a non-marring, natural bristle head. Avoid using a short or hard bristle cleaning head as damage may occur. After removing the dust, you should restore the woods beauty by wiping the panels with a quality furniture polish such as lemon oil.
Do not spray the polish directly on the panel. Instead, apply the polish to a soft dust-free cloth and wipe the panels lightly. At all costs, avoid using water or a damp cloth as this may affect the stability of the veneer surface. The intervals of cleaning will depend on the conditions of your building. Cleaning is recommended at least once a year but may be dependent upon your building conditions. Periodic maintenance will preserve the look and performance of wooden acoustic panel for many years to come.
| | | | |
| --- | --- | --- | --- |
| Model | Specification | NRC | Color |
| MricoP 0.5mmVenner | V-MP0.5-4-4-16(2-2-16) | 0.86 | Veneer |
| MricoP 0.5mmHPL | H-MP0.5-4-4-16(2-2-16) | 0.86 | HPL |
| MricoP 1.2mmMelamine | M-MP1.2-8-8-16 | 0.88 | Melamine |
| MricoP 1.2mmVeneer | V-MP1.2-8-8-16 | 0.88 | Veneer |
| MricoP 1.2mmHPL | H-MP1.2-8-8-16 | 0.88 | HPL |
تواصل معنا
لا تتردد في التواصل معنا، نحن هنا من أجلك